CLASS DESCRIPTIONS
Beginning Stamping - you will learn about papers, inks, thermal embossing, and some important tools you'll want in your stamping kit.
You will make a card and go home with a hand-out of information that you learned in class
Beyond the Basics - prepares you for most other stamping classes. You will learn all about the VIP stamp positioner, masking, sponging, how to use your Xacto knife, and you will make a simple pop-up card.
Marker Magic - you will use Staedtler Water color markers straight from the pen, as a watercolor, and with a Dove Blender. We will finish this class with instructions on the Studio 2 Alcohol markers.
Colored Pencils - this 2 part class introduces you to both wax and watercolor pencils, card development, and shading. You will practice
the techniques and take home a detailed hand-out.
Watercolor - teaches you many watercolor techniques and introduces you to different types of watercolor sources.
Gabi's Girlz - Shrink art pins with fun, flair and lots of personality!
Stylin' with a Stylus - free form background preparation for card making and collage.
Flower Power - a fresh approach to Spring - mixed media and more!
Eight is Enough - in this fast-paced class we will complete eight cards that look great but take little time to complete. Good for any occasion, this class will put you ahead of the "Yikes I need a card NOW crunch".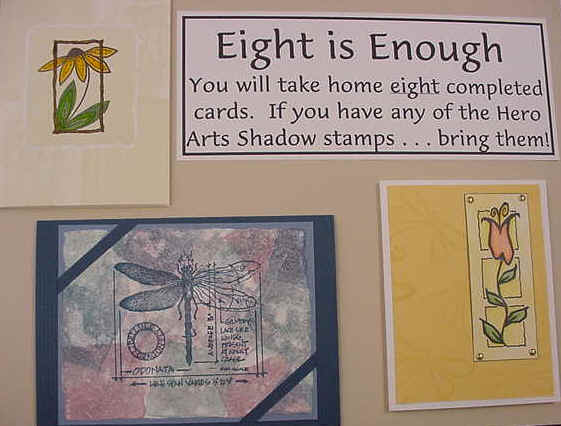 Illuminating Ideas - using stamping and other techniques, create a lovely decorator lamp shade for your home. There will be numerous samples to view during class.

Versatile Vellum - new visions of vellum that will inspire you to continue exploring the uses of this extraordinary paper.

Boundless Bollio - create beautiful cards using the newest tool to hit the stamping world. Whether crafting sophisticated greetings or whipping out a card in a crisis, these are the greatest!

All That Glitters - In this class we will play with many of the fun US Art Quest supplies such as Gildenglitz, Pearl Ex, and Perfect fx to create cards with a definite artistic flair.

Tag Book - Tag art is very popular right now. We will not only create some lovely examples, but will make a portfolio to keep them

in as well. This is a fun class in which you can really stretch your creativity.

Tagged Journal - in this class you will stamp and construct a beautiful journal using tags and beads. You will also make coordinating

paper beads to embellish the book.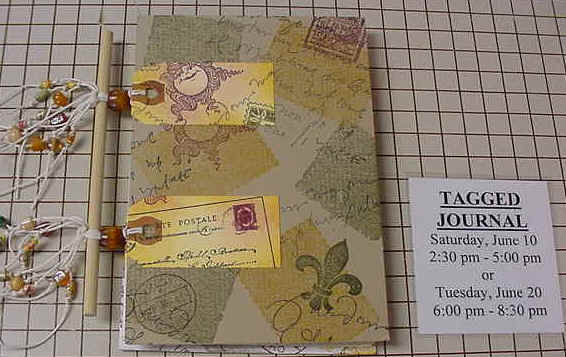 Color Me Surprised! - Dazzle your friends with this mystery card. It is fun to make and people of all ages love to receive it.

Grandmother's Garden Journal - this small hard-covered book, has a garden-themed collage on the cover. The four signatures are

sewn through the binding and exposed stitching is embellished with an assortment of beads.

Skewer Books - make two soft-cover skewer books - one single and one double signature. Lazer printed paste papers are stamped for

a quick and easy collage-look cover decoration. A quick book with character - you'll love it!

Papermaking - a full day of learning the pour method of papermaking. Techniques include a basic sheet, pulp painting, inclusions, embossing and laminating – and you will be given written ideas on how to use what you make.

Gildenglitz Girl - Gildenglitz, Lumiere paint and much more give this special "girl-shaped" book a sparkling personality!

Asian Tag Book - this single signature, tag-shaped book has a wrap around cover and is embellished with Asian-themed stamps,

punches, sealing wax, beads and charms. Explore a new "tag" option for the upcoming convention!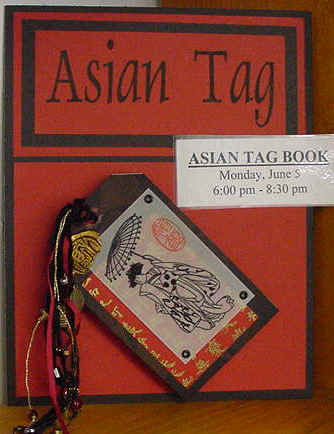 Glazed Metallics - this easy elegant technique is the latest idea for your Encore pigment pads. In this class we will be using the

new Illuminated Manuscript Stamps, dye inks and tag embellishments to create a glazed metal finish. So quick and simple you'll

finish at least two cards in class.