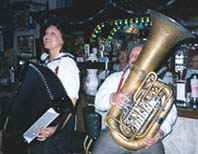 About the Restaurant
Haus Murphy's opened in August 1996
The restaurant is decorated with many photocopies of early Glendale buildings and people.
We sincerely thank the Glendale Historical Society for their wonderful help in securing these copies.
Haus Murphy's, located in the heart of Glendale's antique district, just down the street from Murphy Park.
Haus Murphy's has received many awards
including the Arizona Republic's best
German Restaurant in 2000 and 2001.
Haus Murphy's has also been listed as
one of Arizona's Best Restaurants by
the Phoenix Magazine. The 100 Best
Restaurants in Arizona Dining
Guide awarded Haus Murphy's a Star

Haus Murphy's is located at:
5739 W. Glendale Avenue
Glendale, Arizona 85021
Phone 623-939-2480

Open Tuesday thru Saturday
11:30 AM to 9:00 PM
Sundays 4:00 PM to 8:00 PM