Artwerks Lateral 58 the Soul of Glendale's Centerline
By Bette Sharpe Glendale Daily Planet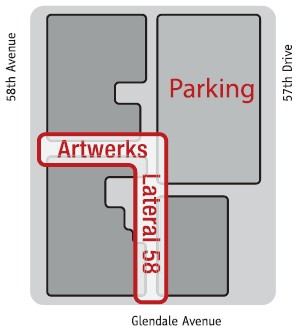 First Saturdays, which officially starts on February 5th and continues through May, start at 10 a.m. and continue to 4 p.m. Events scheduled these Saturdays will feature live music, original paintings, hand crafted jewelry, mosaics, performing ensembles and art workshops. Artists who are interested in joining Glendale's new art district, which is part of the Glendale Centerline project, in the historic part of downtown Glendale; can find more information at http://www.ArtwerksLateral58.org. Artwerks Lateral 58 (or 58th parallel is now 58th Avenue) includes the breezeway alongside Bitzee-Mammas Restaurant and the alleyway that continues south, ward to Glendale Avenue.
The objective of Artwerks is to bring the arts (not just the visual arts) to Glendale's Centerline district and start a community of business, artists, and audiences.
Wednesday, January 26 a meeting was held at Bitzee-Mammas Restaurant to get the community's creative juices flowing for a mural project and maybe opening the door for more mural projects. The purposed mural talked about in Wednesday's meeting is 16 x 9. The band, Fishbone provided the music. Some ideas and/or concepts that were suggested for the community mural were butterflies, trees and their roots, cultural diversity found within the City of Glendale, sky (for mood), the City of Glendale's centennial.
Annie Loyd, The Fusion Foundation founder, president and CEO, said "we build communities" by reaching out to businesses, city schools; "to all sectors". Artist from the immediate area and as far away as Scottsdale were in attendance. Several area business owners were also in attendance. One other idea for a community arts project is to do something with the green curtain hanging on construction fence that surrounds the block were the old Southern Baptist Church is located. Mark Paratore, Economic Development Specialist from the City of Glendale was in attendance also.
The Fusion Foundation, will provide artist, both visual and musical, for the First Saturday events. You may remember, Artwertks held events in December during Glendale Glitters. The First Saturday events start February 5th in the Lateral 58th breezeway and alleyway.
A second follow-up meeting will be held on Wednesday, February 2nd at Bitzee-Mammas to continue the discussion. If you have any ideas for the community mural project, bring your ideas and photographs to Bitzee-Mammas next Wednesday. Meeting starts at 5:30 p.m. More information can be found also at, http://www.ArtwerksLateral58.org.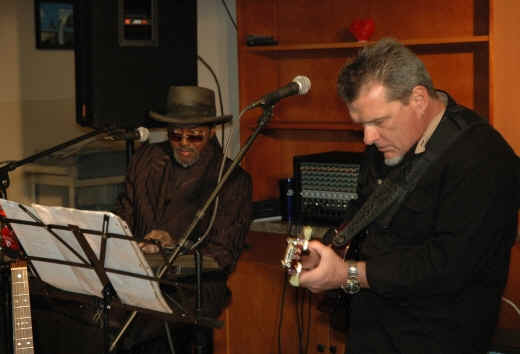 Bette Sharpe-Glendale Daily Planet No. 1296

Fishbone provided some cool jazz for Wednesday's

meeting.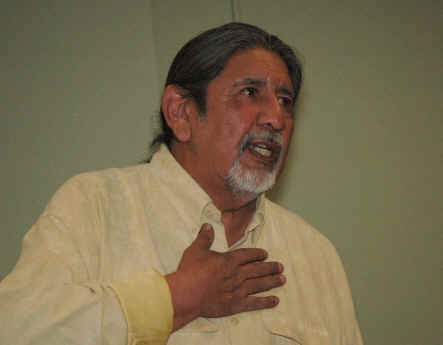 Photo by Bette Sharpe Glendale Daily Planet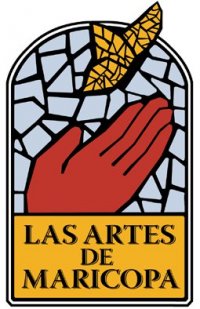 Martin Moreno of Los Artes De Maricopa gave a slide show of some of the murals, some painted and some constructed with ceramic tile, that he has been associated with. You can see an example of his work at the PSA Art Awakenings / Las Artes de Maricopa Mural at Historic Sahuaro Ranch Park - Glendale Arizona. Or simply watch the video below and see the unveiling of it for the first time to the public!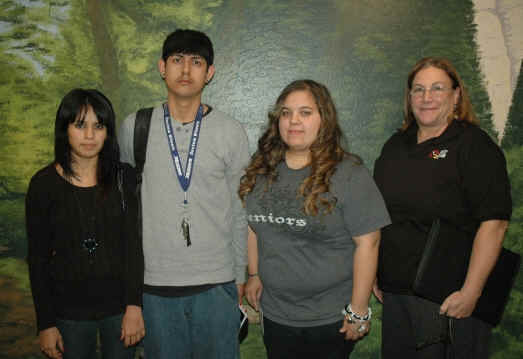 From Glendale High School--Irlanda Morlina, Jonathan Espino, Jennifer Burgos (GHS Art Club President), Art Teacher, Sherrie Zeoli. All very excited about the new opportunities for art in downtown Glendale. All are artists, and each would like to participate--to do the art.
Bette Sharpe/Glendale Daily Planet No.1313.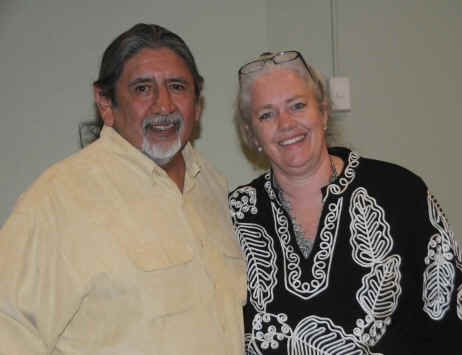 Martin Moreno, Artist--Las Artes De Maricopa and Annie Loyd, Founder, President and CEO of The Fusion Fusion Foundation.
Ed Sharpe/Glendale Daily Planet No. 0546.
Mark Paratore, Economic Development Specialist City of Glendale, and Annie Loyd are excited about Artwerks Lateral 58th and the First Saturday events starting, Saturday,

February 5th.

Bette Sharpe/Glendale Daily Planet 1306