2 Great Downtown Glendale Events
Catlin Court Historic Home tour
and
Glendale Downtown Shops and
Boutiques Holiday Open House

Where were you on November 8th?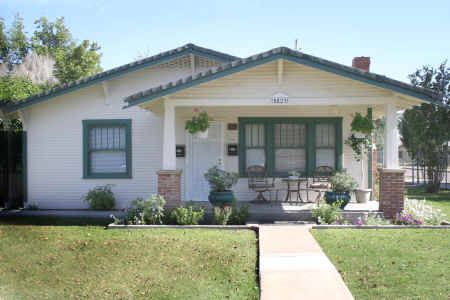 Submitted Photo
GLENDALE, Ariz.-Nov. 8 – Have you driven through the Catlin Court Historic District and wondered what the beautiful bungalow homes looked like inside? This weekend you had the chance to find out!
Homeowners opened their doors to 750 attendees for the Catlin Court Historic Home Tour on Saturday, Nov. 8, from 10 a.m. to 4 p.m. This is only the second time Catlin Court homes have been opened to the public. The tour featured eleven historic homes in the beautiful historic neighborhood.
History buffs delighted in hearing stories of the neighborhood's rich and fascinating past, which dates back to 1915. Co-founded by Otto R. Hansen, the neighborhood was named "Catlin Court" for his wife's maiden name, and was one of Glendale's earliest residential developments.
Additional activities were enjoyed during the tour hearken back to Glendale's earlier days, such as free horse-drawn carriage rides and a vintage car show.
Tickets, which were on sale at the at Glendale Visitor Center, were only $12. making this not only an interesting day out but an affordable one also!
Let's Go Shopping!
A parallel event was taking place with the 'GLENDALE SHOPS & BOUTIQUES OFFER HOLIDAY OPEN HOUSE', which formally kicks off the start of the season for the merchants in these delightful shops.
Participating shops in Old Towne and Catlin Court were decorated and filled with gifts, decorations, furniture, home decor and all your needs for the holidays!
Historic Downtown Glendale is filled with more than 90 one-of-a-kind boutiques and specialty shops where you're sure to find that perfect gift for everyone on your list, as well as great eateries when you need to take a break from shopping! In addition, many shops offered refreshments, special promotions, gifts and prizes.
Lorraine Pino, Tourism Manager for the City Of Glendale stated: "Saturday was a fun filled day in downtown Glendale. The Catlin Court Home Tour and the Holiday Open House are perfect examples of the unique events taking place in the downtown which provide memory making experiences for our residents and visitor