GLENDALE ROLLED OUT THE HOLIDAY SPIRIT
FOR CHRISTMAS IN JULY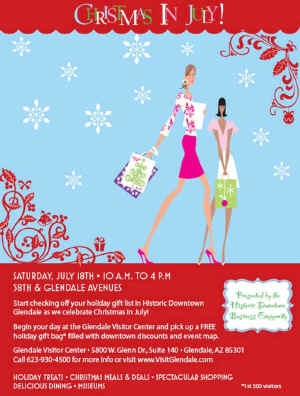 GLENDALE, Ariz. – The weather was indeed frightful, but shopping in downtown Glendale during Christmas in July was delightful! Shoppers celebrated the joy of the season early on Saturday, July 18 from 10 a.m. to 4 p.m. and enjoyed a fun-filled day of holiday crafts, sweet treats and exclusive deals in Historic Downtown Glendale.
Christmas cheer began at the Glendale Visitor Center, where the first 500 visitors picked up a holiday map, coupons and gift bag and took a spin on the prize wheel. Then folks hopped on board the cool and comfortable Glendale Express Shuttle, which provided rides throughout Old Towne and Catlin Court. It was hot, but a great time to visit boutique stores, specialty shops, and downtown eateries for giveaways and great deals.
Christmas music played throughout the neighborhood while shoppers got into the spirit of the season. We were even treated with seeing Santa at the Glendale Visitor Center!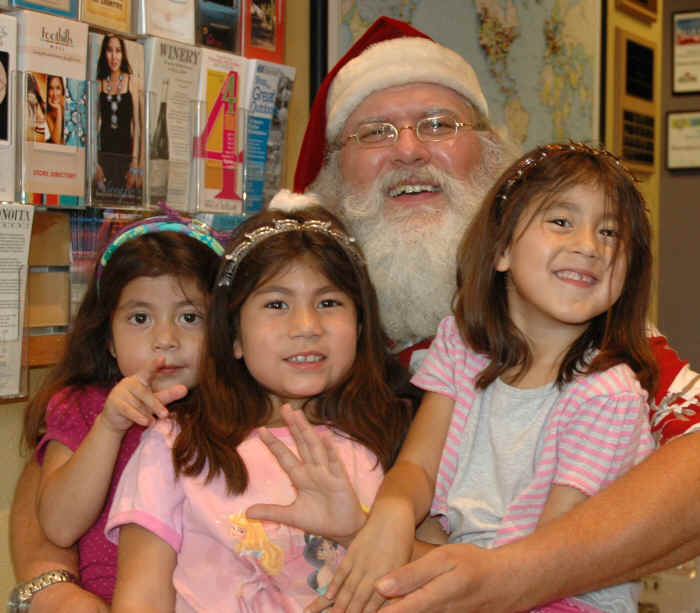 L to R Ashley, Amie and Ariel Cunningham from Albuquerque New Mexico stopped into visit Santa while on vacation at the Glendale Visitor Center where Santa had taken up residence during the summer heat in the Christmas In July promotion if Historic Downtown Glendale.
Photo by Ed Sharpe
Downtown businesses offered fun-filled holiday activities, including decorating a Cerreta's Chocolate Christmas tree, Christmas card-making at The Creative Quest and The Tea Shoppe, and a make-and-take beaded snowflake at The Bead Museum, all for a nominal fee. Glendale Flowers will also had a free make-and-take craft for the first 200 visitors.
The Christmas Cottage had a snow machine generating snow to greet visitors that crossed the entry portal there!
In the spirit of holiday giving, the Glendale Visitor Center accepted non-perishable food items to benefit the St. Mary's Food Bank. During the summer, the food bank shelves are at their most bare, so people need to donate to help families in need.
Christmas in July also kicks off the start of decorating 1.5 million lights for the annual holiday light display, Glendale Glitters, Azcentral.com's Critics' Choice for Best Festival. The installation of the holiday lights takes more than 5,000 labor hours to complete in order to be ready for Glendale Glitters Spectacular on November 27-28, from 5 to 10 p.m.
For more information for a visit to the downtown area, contact the Glendale Visitor Center at 623-930-4500 or visit www.visitglendale.com. The Glendale Visitor Center is located at 5800 W. Glenn Drive, Suite 140.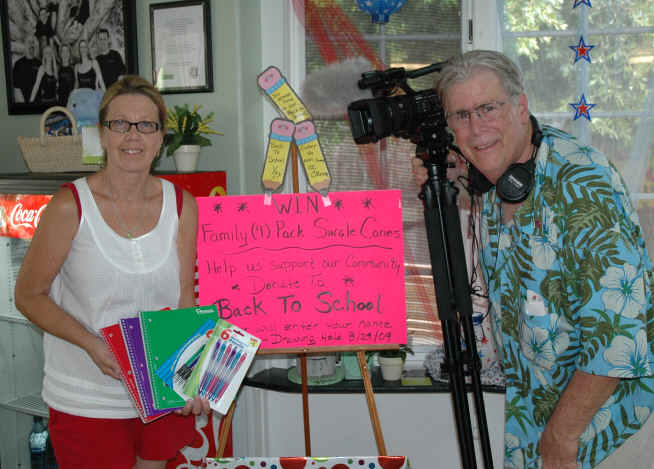 Linda Whittley of Papa Ed's Ice Cream shows off the collection box that held the gathered items for the Back to School drive. Ed Sharpe, Glendale Daily Planet/KKAT-IPTV on the left. Photo by Bette Sharpe