Farewell to Miracle Haven - Catlin Court
Friday & Saturday were full of shopping, coffee & big hugs...
Photo and story by Ed Sharpe Glendale Daily Planet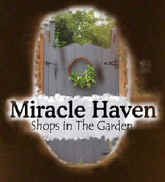 November 13 and 14 were the final closing sale at Miracle Haven, a unique boutique and eatery featuring a unique bakery in Catlin Court.
In an invitation that went out to all of her loyal shopper, friends and fellow merchants, Kristi Caggiano, Owner of Miracle Haven stated "I must share that we've made the very, tough decision to close Miracle Haven." She continued, "We know you'll miss us and we'll miss you, too! But on the bright side, we're thinking of this as 'the completion of a chapter', rather than 'the end of the story' ".
On April 13th, 2007 she opened "Miracle Haven, Shops in The Garden", a Boutique & Bistro, in Catlin Court/ Downtown Glendale and has enjoyed creating a comfortable atmosphere for her visitors. The garden, at Miracle Haven, adds a lovely touch to the many treasures and great food people enjoyed there..
Elaborating on her experience as a merchant in Catlin Court Kristi stated "We have been SO blessed to enjoy several years of business in the downtown area and have particularly enjoyed the great times we've had with our customers, employees, the volunteers and staff of the Glendale Visitor Center and our fellow merchants- you all are AMAZING! We will miss you deeply. "
For years this unique entity has provided shoppers and diners with a unique treat. Fellow merchants often enjoyed a scrumptious lunch presented with elegance.
Kristi was always active in promoting not only her own shop, but all of the shopping district, she was a one person marketing dynamo.
Ed Sharpe, Publisher of the Glendale Daily Planet commented on the uniqueness of the lunch packaging, "When you received you lunch you felt you were getting something special that was gift wrapped and a lot of love and effort had gone in to prepare. Even the Drink Cup would have something inscribed or illustrated on it. We will forever treasure our cup with the Glendale Daily Planet logo on it they had placed on it"

With a way to stay in touch with a final bit of whimsy...
With an eye towards the future Kristi wants to stay in touch... "Should Miracle Haven re-invent or re-birth - which we definitely hope it will - we will be sure to let you know if you add your name to the e-mail list at http://www.shopsinthegarden.com/index.htm (Your address will not be shared .) "

With a bit of whimsy she states... "I wanted to say, 'so long and thanks for all the fish', but I'm not a dolphin and I don't really want to say so long. I want to say, 'Here's hopin' we see you soon.' "
---
---
A look back from the archives
of the Glendale Daily Planet...
---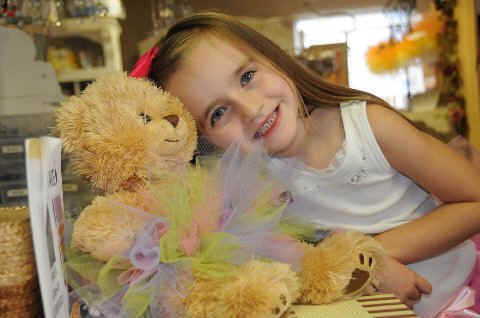 Madeline Toren of Phoenix Having a 'Beary Good Time" at Miracle Haven's Teddy Bears & Tutuís Tea Party. The party featured a Custom tutu for the child and their teddy bear, plus a casual tea party lunch and cupcake dessert. Aside from all the great fun for the kids, Miracle Haven offered Fun shopping, amazing sandwiches, 'brow popping' coffee and a fresh bakery for the adults to enjoy! - Photo by Ed Sharpe CouryGraph Productions
---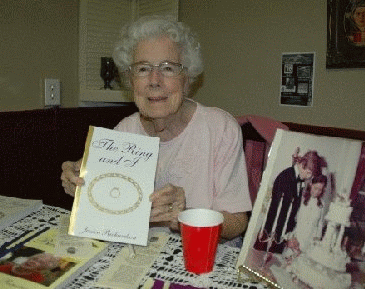 Miracle Haven, 5845 W. Palmaire Ave. in Historic Downtown Glendale, hosted a MEET THE AUTHOR EVENT Thur, Oct 18th, 5-9pm

Jessica Richardson, a 92 year old British woman, is the author of 3 books of true life stories. In her eighties she began writing, embarking on her first book, The Ring and I, a touching love story of her beloved Philip and their life together in England

during WWII.
---
A look back from the archives
of the Glendale Daily Planet...
Inside Miracle Haven on this Teddy Bear Day!
http://www.shopsinthegarden.com/

E-mail: fun@shopsinthegarden.com

5845 West Palmaire Ave. Glendale, AZ 85301


DID YOU KNOW?

Every item in their Shop
is handmade by a local artist?

Indeed! Handmade!

You will find unique purses, hand-poured candles, lotions, bubbly bath salts, soft & chic baby gifts, gourmet jams, pottery, art, wood-turned pens, etched wooden wine corks, handmade greeting cards, original rubber stamps and more...


A fabulous place to shop and a great way to support local American artists.


Boutique Shopping 100% Handmade by local Artists

-----------------------------------------------------
Cheri DeGruccio of FaerieStudio www.cheridegruccio.com
1:12 Scale Dollhouse Miniature Babies,
Children, Faeries, and Nursery Toys

Cheri DeGruccio who specializes in one-of-a-kind sculptures taught a workshop on "How to Make a Miniature Teddy Bear". Students were taught how to sculpt their very own Teddy Bear out of polymer clay, and add special little details such as glass eyes, stitches, and bows. Axel even decided to add his own special touch - a little white clay hat!

For information on upcoming classes, contact Cheri at FaerieStudio@aol.com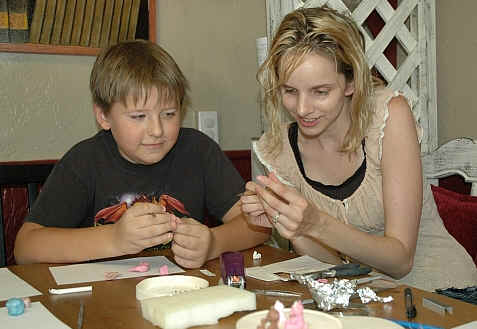 Axel Nielson and Cheri DeGruccio working on a Miniature Teddy Bear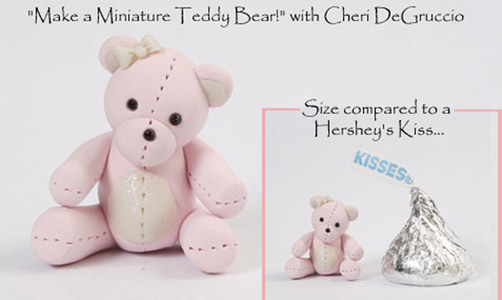 ---
A Special Surprise is found in the back of Miracle Haven.

There exists a pastry bakery specializing in all sorts of fine pastries, cupcakes and goodies sure to put a smile on your face.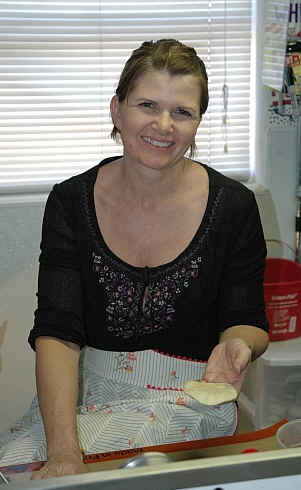 Master Pastry Chief Michelle Zerth can be seen here fabricating a tasty treat!




Bakery Opening a success! We all welcome Chef Michelle Zerth, a graduate of Scottsdale Culinary Institute/ Le Cordon Bleu! She introduced some fabulous items including:

*Giant Cinnamon Rolls*
cinnamon-a-licious!

*Mini Apple Pies*
a delicious mini-pies stuffed full of
fresh baked apples. (my favorite!!)

*Decadent Chocolate Cake*
containing no gluten, wheat, flour or nuts.
Sold by the slice. WOW!

*Sugar-Free Lemon Moons*
sweetened with real fruit juices.

*Sugar-Free Cranberry Nut Bars*
sweetened with real fruit and fruit juices.

*Munchies for Munchkins*
yummy, low sugar treats with real fruit, specially formulated to help kids
(10 mo+) grow, develop & thrive!

*Peanut Butter Cookies*
no gluten recipe.

*Sunflower Seed Butter Cookies*
no gluten, wheat or nuts in recipe.

*Kitty Nibblers* & *Puppy Kibblers*
Yummy, healthy treats for your favorite
cat or kitten & delicious, nutritious for (wo)man's best friend - dog & puppy approved.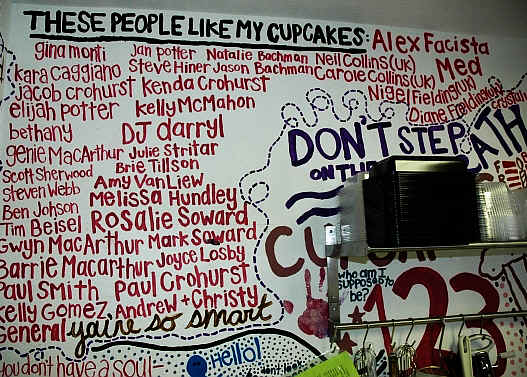 Be sure to see the yummy Cupcakes from Kaitlyn!
These people all liked them and you will too!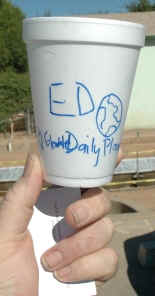 They even decorate your water glass at Miracle Haven!
Making a Teddy Bear Blanket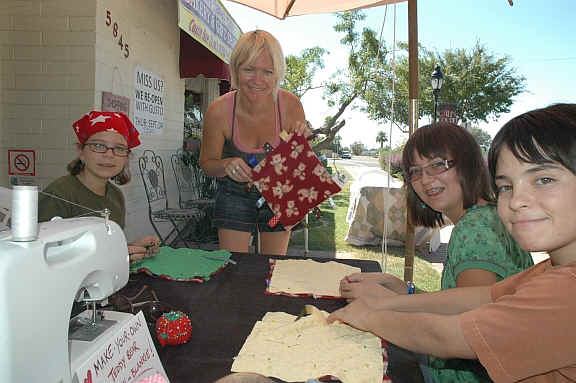 L to R Sabrina Kim Boardman of Mama mia Designs , Sierra and Hanna.
Kim Boardman of Mamamia Designs who markets though Miracle Haven and www.mamamiadesign.com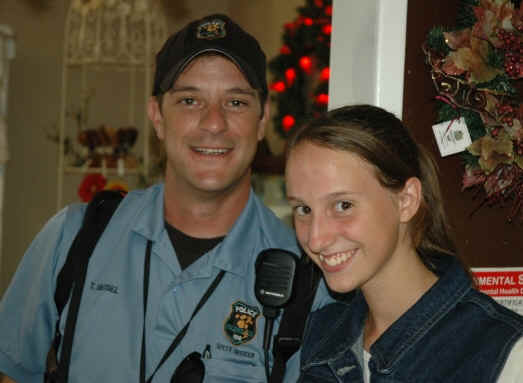 Tim Beisel, one of the downtown ambassadors pauses for a photo of one of Miracle Haven's wonderful employees
Above is a look back from the archives
of the Glendale Daily Planet...