Glendale's Manager of Tourism receives accolades and a surprise breakfast from adoring downtown merchants
or...
Lorraine's Super Magical Surprise Party!
Photos and story by Ed Sharpe Glendale Daily Planet 11-12-2009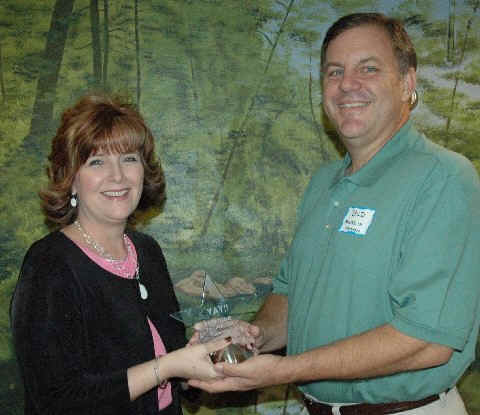 Bud Zomok (Right) from Shoez in Motion, a downtown Glendale Business merchant presents Lorraine Pino Glendale Tourism Office Manager a star shaped glass award in behalf of all the merchants in the historic downtown area comprised of historic Catlin Court and Old Towne Glendale...
Lorraine's favorite expression is YAY!.... so the star trophy the is inscribed with
YAY!
Lorraine
You Are Our
Superstar!
In addition Lorraine was presented with a a crystal clock that said
Lorraine Pino
Thank you for all the "Extra" time and dedication
The Glendale Merchants thank you.
November 12 2009
More article and photos to follow!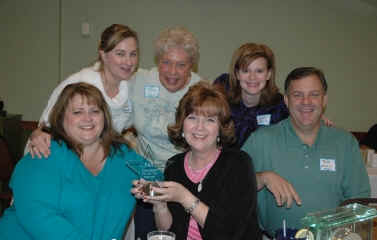 Back row - Jennifer Reichelt - Marketing and Communications, Becky Shady - Vistor Center Volunteer, Jennifer Stein - Marketing and Communications
Front row - Varerie - Owner, Bears and More in Catlin Court, Lorraine Pino Tourism Manager, Glendale Office of Tourism & Visitor Center - Bud Zolmok - Shoez in Motion in downtown Glendale AZ
The Game's Afoot - The Party is Gonna Happen!

Lorraine Pino, Tourism Manager of Glendale Office of Tourism & Visitor Center, is a face and a star that has shone down on all of us here downtown over the years. Starting out 9 years ago as a part time employee, when the visitor center was founded, Lorraine rose to the position of the manager of Glendale Office of Tourism & Visitor Center. We all got together November 12. 2009 at Bit-zee Mama's in downtown Glendale to salute her.

A great plan has to start somewhere!

Bud Zolmok of Shoez in Motion, A downtown Glendale merchant, tells us "This idea started about two months ago when I was talking with a the merchants from Papa Ed's Ice Cream and Country Maiden in Catlin Court. We were talking about ideas to bring more folks to the different event's and Lorraine's name and how hard she works came up."

"Just for fun I said we really should do something for her. At first a few folks thought maybe getting her some kind of a gift certificate would be nice and I said no I was thinking something a bit more personal than a gift certificate... Maybe a "Thank You" breakfast. They seemed to like that idea but it also seemed a bit big to pull off in a short period of time"

Success of a surprise party relies on getting the subject to the party totally unaware that they are going to be surprised! Bud tells us how he pulled this off... "I made a phone call to Terry Williams in Lorraine's office and found a date in November that was open on her calendar. I then spoke with Valerie Burner (Bears and More) and arranged to have her call Lorraine and schedule a meeting for that morning. I knew Valerie is not a early morning person so if she asked Lorraine to meet first thing in the morning I knew Lorraine would take this very serious!"

The next step to success in planning a surprise party is getting the general population notified but not have the 'secret' slip out!

"Once I had the date locked in, I created an invite flier and solicited help from Cheryl Kappes from Country Maiden) and Linda Whittley from Papa Ed's Ice Cream) to distribute the flier throughout Catlin Court."

Bud handled the downtown distribution of the flyer in the downtown area along Glendale Avenue. "I would open my shop, work a few hours, shut it down for ten minute and run like a crazy man delivering invites. Then back to the shop... It took me four days to hand deliver all the flier... The one thing I was most worried about was keeping this a secret!"

The response from the merchants was even more than Bud had anticipated, "What I found most interesting was everyone I spoke with weather they could attend or not all had great things to say about Lorraine. I did not encounter one negative comment as I handed out the invites. With the economic concerns of some of the businesses I feel their comments are even more a tribute to the hard work Lorraine does for this area."

A week before the event Bud Zomok once again would shut his shop and ran reminder fliers to the business that had not RSVP'd. This added effort resulted in another 12 folks calling and showing up.

Lorraine was very surprised as she walked into the banquet room at Bitz-ee Mama's. A spontaneous standing ovation occurred and within a few seconds the tears were flowing from both Lorraine and several of the attendees.

Lorraine gave an impromptu speech about how much the downtown community meant to her, "that they are like her family" and that "she loves each and every one of them." She expressed "she is a very lucky girl to get to have the job she has and she should be thanking us." In addition, with great elation, she brought up the fact she is "looking forward to the 10 year anniversary of the Glendale Visitor Center."

After the event Lorraine told 'The Planet, "What a wonderful and exciting morning at Bitz-ee Mama's! It is a true blessing to be the Tourism Manager for the city of Glendale. I am the luckiest girl in the world and today's celebration was such a special surprise. I am so very thankful for the downtown business community, for their passion, energy, creativity and caring. I look forward to many years ahead filled with events and activities that continue to showcase the unique aspects of our downtown and giving our visitors an unforgettable experience. Many, many thanks to all of my downtown friends who truly gave me one of the best days ever."

Ed Sharpe, Publisher - and his staff noted, "Lorraine has always offered us ideas, assisted us with stories and provided positive critique on our efforts here at the Glendale Daily Planet / KKAT-IPTV" Sharpe continued, "Many times, late at night, we are still working on a story and need some facts or a relevant quote and Lorraine pops up with a what we need from the keyboard of her trusty blackberry!" In a disturbing era of changing work ethics Sharpe states "Lorraine is a breath of fresh air with the enthusiasm and energy she brings to her workplace and the entire downtown core."

In closing Bud Zomok told the 'Planet, "in addition to thanking Lorraine, the second most important part of this event was watching the merchants come together for a cause... and once at the meeting they talked, laughed and shared with each other. For a few minutes they forgot if they were Catlin Court or Downtown Merchants and joined as Glendale Merchants thanking Lorraine."
======= Some thoughts express during the process and after the fact... =======
Kelly Norton - Executive Director, The Bead Museum
"Loraine's dependability in providing communication for The Bead Museum has been extraordinarily important. Her newsletters are full of important information that keeps me up to date on events and changes in our local business community. She is personable and always so very friendly! Many thanks Loraine!"
Jim Eggleston - Kathy Corner
"She's the real deal... "
Jennifer Stein - City of Glendale
"I think I'm going to cry just hearing about this..."
Cheryl Kappes - The Country Maiden - Catlin Court
"After purchasing the Country Maiden, in early 2007, I called Lorraine at the Visitor center to learn more about That Thursday Thing. Lorraine immediately put me at ease, and really helped me to learn the ropes. Lorraine is so very good at listening, giving her undivided attention to the question at the moment, and not afraid to dig in and help with whatever ideas we come up with. Lorraine is just the right mix of energy, enthusiasm, laughter, and real passion for the Merchants success. Our City of Glendale, is very lucky to have her!"
Valerie Burner - Bears & More
"We remember when Lorraine was a part time volunteer - and her love and enthusiasm for Downtown Glendale has never wavered. What would we do without her?"
Cheryl from Country Maiden
"No one better..."

Rose Prescott - Matilda's Vintage Closet
"Lorraine has always been looking out for us and has called us at Matilda's "Stars" when they get us out in the public eyes either by having us do a fashion show or putting us on TV...we thank her for her continued support in helping put our shop (Matilda's Vintage Closet ) and Historical Downtown Glendale on the map."
------
Other great comments flew fast and furious and just a few were....
"Why didn't this happen sooner... and Why didn't we think of this?"
"A gentle spirit who bleeds Glendale..."
"Wouldn't miss this for the world..."
"What a gem..."
====================================================================
Emmy Award (R) winning Glendale Daily Planet / KKAT-IPTV" is Glendale's and the Metro Westside Valley of the Sun's 'Independent Online Journalism Initiative'.

Read us... watch us... www.glendaledailyplanet.com
More article and photos to follow!