Historic Glendale Welcomes
Coffee & Tea Express Cafe
Ed Sharpe Glendale Daily Planet (C) 11-24-2008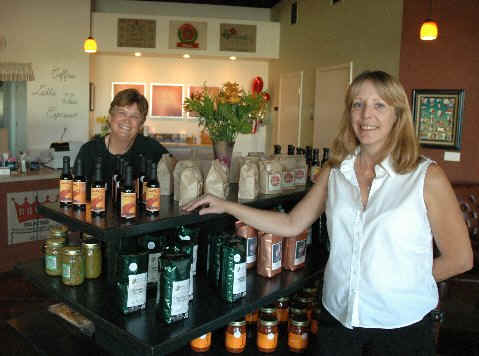 (L to R) Kathy Vanderworp and Rhonda McDonald of Coffee & Tea Express Cafe which offers coffee, tea plus great sandwiches and salads in a pleasant atmosphere. Shown are
many of the specialty food items that make fine gifts.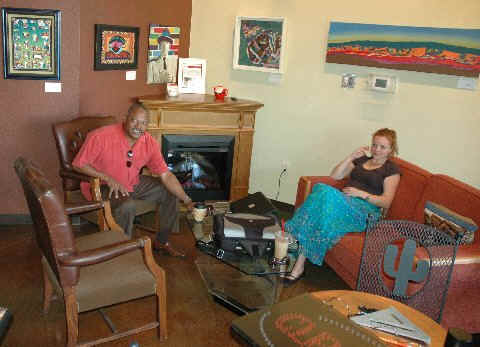 Terry Williams of Glendale Office of Tourism and another downtown shopper enjoy a refreshing cup of coffee in the pleasant surroundings at Coffee & Tea Express Cafe located in the Promenade at Palmaire. WiFi is offered for those that need to catch up on a little laptop time while enjoying a great beverage.
Meet one of downtown Glendale's news business additions!
Kathy loves coffee. Rhonda loves tea.
Itís a perfect combination.
To start their business 3 years ago they became vendors at the Downtown Phoenix Public Market.

Kathy and Rhonda tell us: "Starting with a tent, 2 tables, a couple of coffee pots and some really fine coffee, we grew." they continue: We added fine loose leaf teas, and we grew some more. Two years later, we're still growing strong and looking forward to new ventures."
Their latest venture.... "
Coffee and Tea Express" at Promenade at Palmaire 5835 W. Palmaire Avenue located in the retail area of the new parking garage in Catlin Court is a great addition to the interesting shops and restaurants in Historic Glendale.
If you are stuck in Phoenix over the weekend and have a craving for the good they offer stop in at
Phoenix Public Market at the southeast corner of Central and McKinley every Saturday from 8 to Noon. (map)
Rhonda submitted some of the wheat Tortillas that are locally made and are all natural and some Green Salsa for testing in the Glendale Daily Planet Kitchen .
In the Cafe there are many specialty food items , The quality is outstanding and it is a joy to be able to grab some goodies to take home when you are visiting there, Many of the specialty food items also make fine gifts and the lines offered will be expanded.
The all natural wheat Tortillas that are locally made and the Green Salsa
is OUTSTANDING!
FREE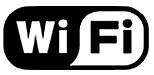 Another wonderful; visual is the Public Art You Can Walk On. This public art project, located on the north sidewalk of the Promenade at Palmaire located in the Downtown Parking Structure, 5835 W Palmaire Ave., features more than 40 recently installed mosaic medallions.
Glendaleís history walk brings us mosaics featuring decorative and colorful images from Glendale ís past and present.
Left Photo: Garry Soderlund, Lynn Basa, public artist that designed the wonderful mosaics
and Tim Beisel, Tim and Gary are with theDowntown Ambassadors that look out for safety
and assist visitors with directions and information.
Below: Examples of two of the mosaics