Jerry Weiers! Four More Years! Four More Years!
By Bette Sharpe - Glendale Daily Planet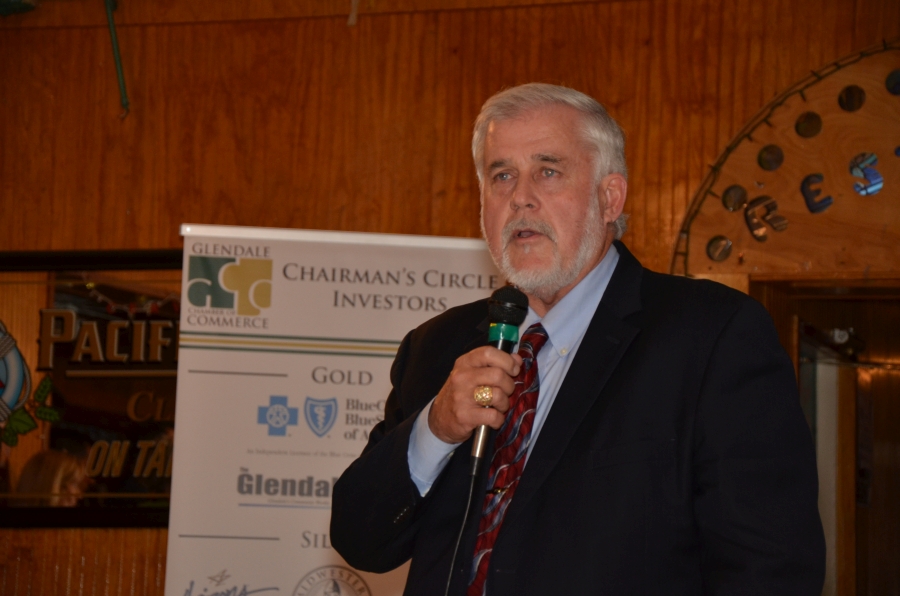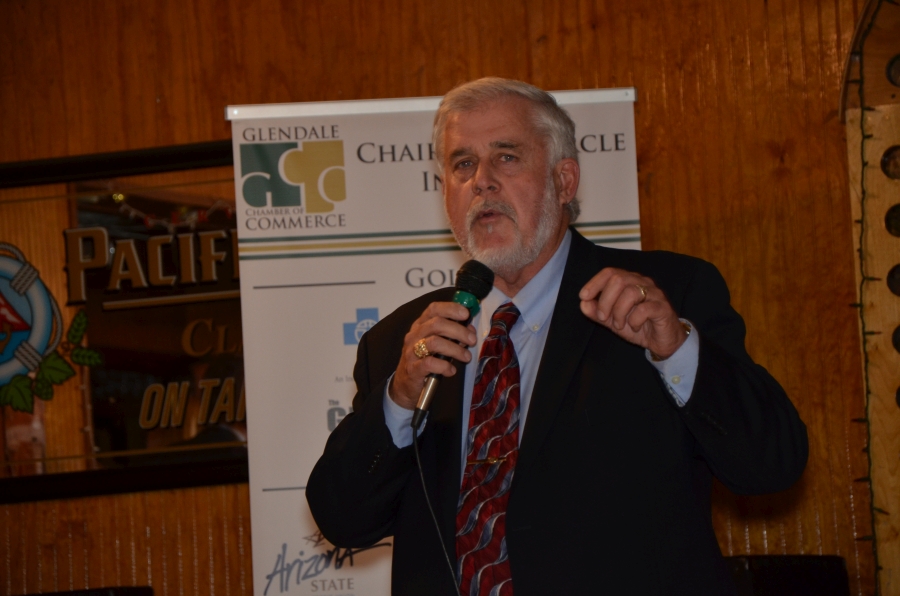 Bette Sharpe/Glendale Daily Planet no. 3863 and 3877.
Bette Sharpe/Glendale Daily Planet no. 3877 and 3877.
Glendale Mayor Weiers announces he will seek re-election. He made the announcement at a 'Business after Business' chamber of commerce meeting held at La Perla on Thursday, May 21, 2015. Chamber Chair-Elect Jeff Blake introduced Mayor Weiers.
Weiers announces re-election plans
At a Glendale Chamber of Commerce 'Business after Hours' event on Thursday, May 21, 2015 at the La Perla Café and Lounge current Glendale Mayor announced that he would seek re-election. It might be difficult to believe that it is time for another election. His last race was in 2012 running against Manuel Cruz. Their race was a close one and ended in a runoff election in early November 2012. Mayor Weiers took office in January 2013. The Mayor is elected for a four-year term.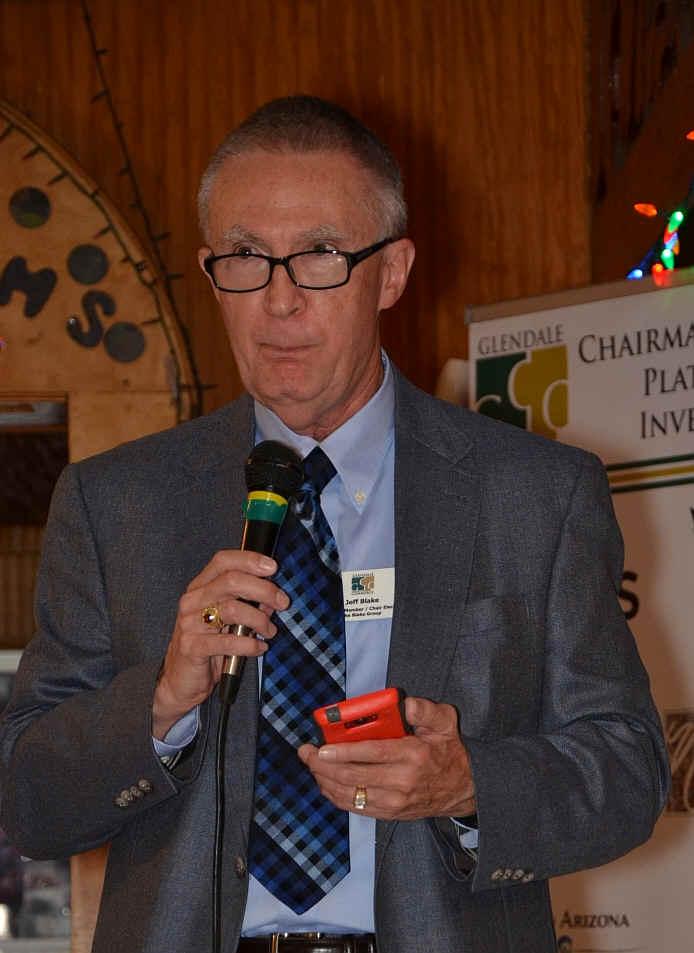 Bette Sharpe/Glendale Daily Planet no. 3858.
Chamber Chair-Elect Jeff Blake said in the beginning of his introduction of Mayor Weiers., "I have and honor and a privilege tonight," "It's almost impossible to overstate how bad of a financial condition the City of Glendale was in when Mayor Jerry Weiers campaigned." Glendale was looking at a possible bankruptcy. Now a balanced budget is in sight and employers and jobs are coming back Glendale.
"He is just about the most optimistic person that you'll ever going to meet in your life." "He loves this city and really believes in the potential of this city." Citizens of Glendale can feel better about the way things are and about how they are getting better."
Mayor Weiers just returned from Washing D.C. and was impressed with what he witnessed during National Police Week. Mayor Weiers would like to hold a public safety appreciation day on June 13, 2015 from 10:00 a.m. to 2:00 p. m. at Arrowhead Mall. The exact location will be announced at a later date. On that 'police blue' day nothing would be for sale, everything needed would be donated. The purpose of the event is to build positive community relations between the men and women in the police department and the communities in which they serve. Ideas for the event mentioned by Mayor Weiers for the Badge-to-Badge event on Thursday were blue cupcakes and blue balloons. In addition to the Glendale Police Department attending, other municipal and county public safety members are scheduled to attend.
And can you can believe this, Mayor Weiers said he would offer to be shot with a taser. The bidding starts at $10,000. The money raised would be for the 100 Club. This organization helps police and fire families when there is a line-of-duty injury or death.
The recent national news has brought attention to police departments and communities that a proactive approach to building and maintaining good working relationships is vital for everyone.
From the Mayor's press release:
GLENDALE MAYOR JERRY WEIERS TO RUN FOR RE-ELECTION
Will Keep Focus on Glendale's Comeback
Glendale Mayor Jerry Weiers announced his intention to seek re-election today at an event at La Perla Café. Speaking to a large crowd of Glendale residents and business owners, Weiers touched briefly on how far the city has come since he was first took office in 2013.
"We have come a very long way together. When I was first elected, voters and local business owners were talking about bankruptcy for the City of Glendale as if it were unavoidable." said Weiers, adding "Well we didn't just avoid it, we put Glendale on the path to real balanced budgets."
In addition to guiding the city's financial turn-around and protecting assets like its libraries,
Weiers has been very involved in the community through local charities and groups. He has also taken the lead in restoring older traditions like the July 4th celebrations that were re-launched at Westgate at no cost to the taxpayers, and in starting new traditions like the Christmas Parade that brings thousands of West Valley residents to downtown Glendale.
"As always, my focus will remain on the economic health of Glendale and the safety and well-being of our residents." said Weiers, who added "We need to keep Glendale on the comeback trail and I hope I can count on all of your support so that we can succeed together!"
Prior to serving as Mayor, Weiers represented the West Valley in the State Legislature where he won awards for his common-sense conservative record.
Jerry first moved to Arizona in 1966. He and his wife Sandy have been married for 33 years and have one daughter and two grandchildren. Jerry is an accomplished pilot--with over two decades of flying experience--who flies out of Glendale Airport. He is a motorcycle enthusiast who rides a Harley Davidson Ultra Classic and he is a member of the El Zaribah Shriners Motorcycle Unit. He performs in parades across the state and has also served as a reservist for the Arizona Department of Public Safety. He also started and continues to lead the efforts of Stand Up For Veterans.
OTHER CHAMBER NEWS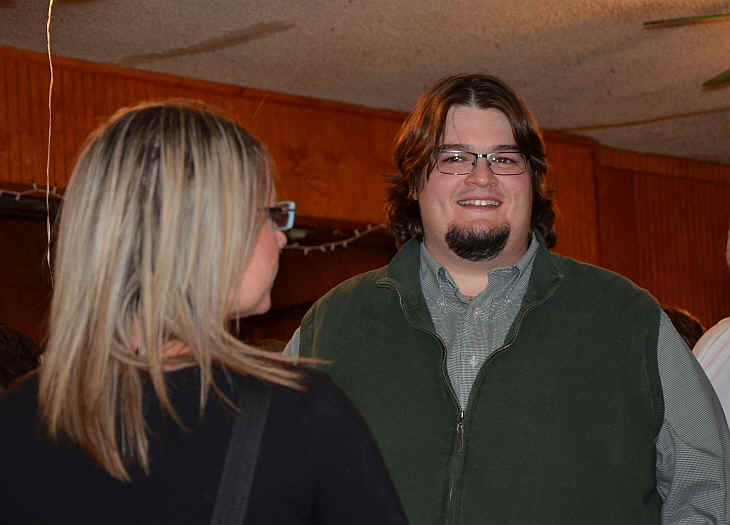 Bette Sharpe/Glendale Daily Planet no. 3819.
Thursday, May 21, 2015 was Greg Walsh's last day with the Glendale Chamber of Commerce. He is leaving Arizona for Massachusetts to be with his fiancée. Good luck Greg! Breanna Pope is the new Director of Marketing and Communications.